Sigel Gas LLC strives to create an atmosphere of safety concerning our pipeline infrastructure not only for the environment but for the public as well.
We at Sigel Gas LLC are committed to our responsibility to uphold this policy and to execute the steps needed to assure such safety.
Federal pipeline safety code requires that distribution pipeline systems comply with tough requirements for design, construction, testing, inspection, operations and maintenance for facilities all the way to and including the customer's meter.
If buried pipeline is not maintained, it might become subject to leakage over time. For your safety, we inspect pipelines for leaks on a regular basis. If our inspection detects a problem in any portion of the pipeline, we may interrupt your service until it has been repaired. Any inspection, installation, repair or replacement of natural gas lines or appliances that you own should be performed by a licensed contractor or plumber who is certified according to the standards approved by the US Department of Transportation.
Natural gas pipelines typically are regulated by both federal and state agencies. Distribution systems regulated by a state agency are required by law to comply with standards that are at least as stringent as or more stringent than those set forth in federal minimum safety mandates.
Public Awareness Programs
Sigel Gas LLC's pipeline public awareness programs are designed to enhance public safety by increasing the public's knowledge regarding pipeline locations and various safety issues. Through sharing information with property owners, businesses, excavators, emergency responders, public officials and other interested parties, Sigel Gas LLC constantly endeavors to raise the awareness of our pipeline facilities and help the public better understand the role they can play in pipeline safety.
Click here for a brochure on Sigel Gas LLC's Public Safety information to review printed material available on public awareness and pipeline safety. To request copies of this brochure, please send an email to info@sigel-gas.com or call (814)275-3390.
Click here for a brochure on Sigel Gas LLC's Public Safety information to review printed material available on cross boring. To request copies of this brochure, please send an email to info@sigel-gas.com or call (814)275-3390.
Click here for a map of the Sigel Gas LLC's service area.
Excavator/Contractor Safety
It is imperative that contractors and excavators use caution and work safely around natural gas pipelines or other facilities. Don't take chances! Dig-ins may result in loss of life, personal injury, property damage, or liability for costly repairs. The following steps are important for any excavation work:
Always "Call Before You Dig" - Call 811, the toll-free hotline, at least 3 business days before any excavation project and your call will be routed to a local One Call Center. Local utilities will mark any underground lines in the area of your excavation for NO COST and you will be able to proceed safely.
Be aware of pipeline markers like the ones pictured on this page. While this is NOT a substitute for calling 811 before you dig, these markers identify the general location of pipelines.
In the event you damage a pipeline during excavation or otherwise suspect a gas leak, immediately turn off any motorized or powered equipment and get away from the immediate area. Promptly call Sigel Gas LLC's emergency number at (814)275-3390. Do not attempt to repair a leak yourself.
How can I tell where a pipeline is located?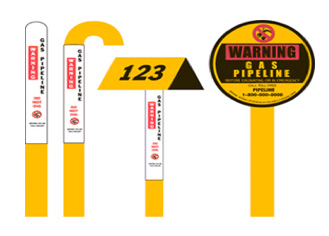 Natural gas pipelines are sometimes identified by markers placed at intervals along the right of way. Markers display 24 hour emergency contact phone numbers.They are generally placed wherever needed to indicate the presence of a pipeline, such as at a road crossing, stream crossing, or as visual reference.
While the markers are very helpful to indicate the general location of pipelines in the area, they may not identify the number of pipelines, nor the exact location. That's why you should not rely solely on the presence or absence of a pipeline marker.
Click here to identify the location of pipelines in your areas by accessing the National Pipeline Mapping Center. If you have a need for more precise information on the location of the pipeline facilities, contact us at (814)275-3390 and arrangements will be made to have a company representative show you where the pipeline facilities are located.
For more information on pipeline safety, click on any of the links below.
Other Resources
---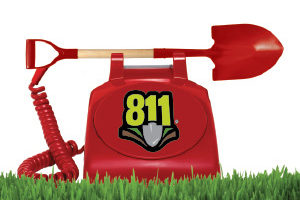 Before you dig or excavate, call 8-1-1 or CALL your local One-CALL System
Visit: PA One-Call System